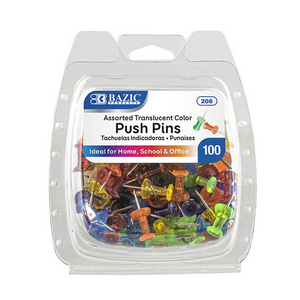 Push Pins Assorted Transparent Color (100/Pack)
RELIABLE & REUSABLE. 100-counts per pack. Measure 7/8 inch long. Made of stainless steel metal ensure sharp, durable, and long lasting use. Keep you desk neat and organize.
SIMPLE DESIGN. Standard size pushpin with a strong 3/8-inch ground steel point. Flathead for easy insert and removal. Accompanying lightweight plastic container for storage.
TACKLE ANY TASK. Pushpins to tack documents, fastening papers, photos, message note on walls, bulletin board, cork boards, calendars, foam board, poster boards,
PROFESSIONAL. Clear or Assorted Color plastic heads help you maintain professionalism at work. Marking locations on the map, decorate on wall, calendars with decorative colorful pins.
PERFECT DEAL. Perfect addition to your thumbtack office accessories. Available in bulk school and office supplies, retail and wholesale to save your costs.
---
We Also Recommend